Cheapest Renewable Energy Supplier for 2021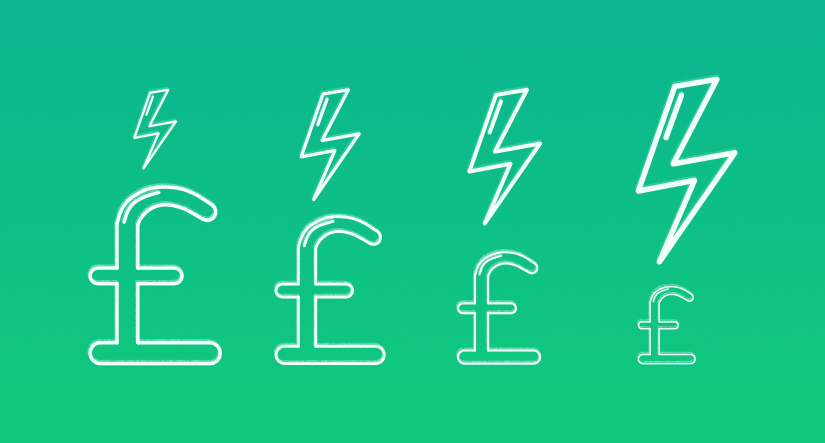 Paying hand over fist for your gas and electricity is so last year. When picking a new green energy provider check their customer service ratings as well as their tariff pricing. These two criteria are what will decide if the company is a pleasure or a hassle to be with, aside from how cheap it is.
---
With the worsening climate crisis, whether a supplier uses green energy or not is quickly becoming a top priority for British households who are shopping around for a cheaper gas and electricity company. Aside from trying to use less energy, switching to a greener supplier is bound to have a significant impact on your carbon emissions and your wallet.
There are numerous energy suppliers, both renewable and conventional, available to UK households. Telling them apart to find the right one for your home with the best savings can be an increasingly overwhelming exercise. For this reason, we have put together an updated list of recommendations, so you can pick the best renewable supplier with the lowest prices as you go into the new year.
Is Renewable Energy Expensive?
In this day and age, renewable energy no longer means higher than average monthly bills. In the past, when renewable generators were less common, this may have been the case. However, the days where fossil fuel-derived energy, "brown" or "dirty" power, beat renewables on price are essentially over. With entire weeks going without coal power being needed by the national grid, green electricity provides better value for money and helps keep carbon footprints down.
The bottom line is that renewable electricity is, for all intents and purposes, as cheap as fossil fuel-powered electricity. Let's take a look at why that is.
Recent trends indicate that we are well on our way to making renewable energy as cheap as, if not cheaper than, fossil fuels.
Wind energy can now cost an average of between 0.03p and 0.05p per kWh in the wholesale electricity market, significantly cheaper than fossil fuels which are coming in at between 0.05p and 0.13p per kWh. Worldwide the cost of renewables is now becoming as or more competitive than the price of fossil fuel-generated electrical power.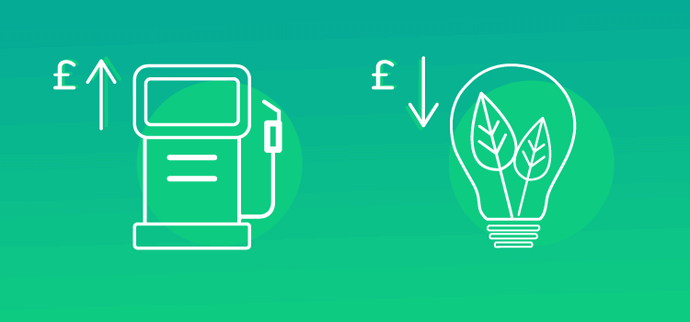 Government initiatives, such as the Feed-in Tariff, have popularised renewable energy beyond high-level infrastructure projects and subsidies.
If you require further proof of the value for money that renewable electricity brings to the table, look no further than at the increasing number of energy companies going green. These companies are actively supporting renewable energy entrepreneurship all over the UK. They are able to do this while providing affordable prices and sustainable electricity to British households.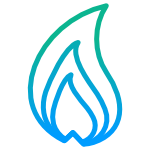 Additionally, companies such as Tonik, Ovo and Octopus are moving into new technologies and making them available to their customers. Solar panels, home batteries and electric vehicle chargers are now becoming common in addition to basic green energy supply services.
At the turn of the decade, we can safely predict that renewable electricity will continue to outperform fossil fuels aggressively on price. Renewable energy auctions, where people buy and sell electricity, are a good indicator of future energy prices. All the trends point to the same outcomes, with fossil fuels increasing in cost as renewables continue dropping in price.
The World Wildlife Foundation (WWF) has indicated that 2017 was the UK's greenest year ever and the UK broke 13 renewable energy records such as passing 1000 hours without using coal. Additionally, more UK electricity was produced by wind and solar sources last year than by nuclear power stations, for the first time according to the latest government figures. Renewable energy's share of electricity generation increased to 29%, while nuclear sources only accounted for around 21%.
Now is the time to fully embrace green electricity as a reality in British residential energy. Switching to a truly green supplier is an easy and painless way to make a difference when it comes to the environment. It's clear that old attitudes and expectations about green energy tariffs no longer apply. Let's now turn our attention to the most affordable British energy companies who are easing Britain through the energy transition.
The cheapest renewable energy suppliers on the market
Here at The Switch, we follow green energy providers very closely, especially in terms of affordability and customer service quality.
To give you an idea of who the most cost-effective UK renewable energy providers are at the moment, we whittled them down to the top seven cheapest green energy companies.
Let's take a look and compare the top green energy contenders as we start the new decade.
What about Outfox the Market, People's Energy or Green. Tariffs?There is no denying that they do show up as bottom of the barrel in terms of price but in many cases also in terms of customer service. Outfox the Market, for example, has been ranked as one of the worst providers in the UK. Meanwhile, So Energy, Octopus Energy and EDF Energy ranked in the Top 5. Here at the Switch, we believe that the small difference in yearly savings is not worth the potential billing headaches and customer service hassles of going with a less proven supplier. Nevertheless, we will refer to them below in relevant award categories.
Finding cheap green energy tips

There are seemingly dozens of gas and electricity suppliers coming on the scene every year. While Ofgem is tightening regulations as to who can operate as an energy supplier, there has been a string of high profile collapses that have left residential customers wondering if switching to a new supplier is safe or if they're going to be left in the lurch when another fledgling company goes bust. How can you tell them apart?
Tariff Comparison Rate (TCR)
When pitting energy tariffs against each other, the tariff comparison rate or TCR is a great way to clearly see which one provides greater value for money.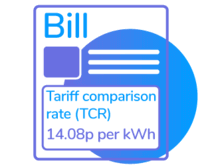 The TCR is a number which shows how much a tariff will cost for a typical customer. It works a little bit like the APR on credit cards by assuming the average energy usage, standing charges and discounts and then represents what this actually means for the customer either in pence per kWh or pounds per year.
All companies are supposed to provide the TCR for each tariff, so you can clearly see a breakdown in terms of kWh unit rate and daily standing charge. However, companies don't always make this key information available at a glance. Moral of the story: Be prepared to hunt around when looking at tariff information online.
To figure out if one tariff is cheaper than another you can compare the TCR of one company to another.
You should always be able to find the TCR for your company on your bills, annual statements or letters from your supplier. The company which has the lowest of the two numbers will be the cheapest supplier.
The dangers of comparison websites
Many customers turn to comparison websites to work out which is the cheapest supplier. Although they can find you some cheap deals they sometimes aren't completely honest with consumers.
Energy comparison websites often work by getting a commission from specific suppliers wanting to get more prominent positioning in order to get more customers. This means that they may hide certain tariffs, preventing you from easily finding the cheapest electricity or gas.
This becomes even more complicated when you are trying to compare only green energy suppliers as there is currently no online comparison site that deals exclusively with green energy. However, online energy comparison sites should have the option to filter deals so you can only see tariffs with only green electricity.
The fact of the matter is that online comparison can be convenient if you don't want to call an energy advice service. Here at TheSwitch, we recommend that you check out either Citizens Advice Bureau or Selectra for your online energy comparison needs.
Which green energy suppliers have the cheapest fixed tariffs?
The first kind of tariffs that we compared were fixed tariffs which are usually the best value deals in the long run when compared to variable tariffs over the course of a year.
In fact, there are many misconceptions about what a fixed tariff actually is. It's true that the name is confusing, leading many customers to believe that because they are on a fixed tariff their bill will be the same every month.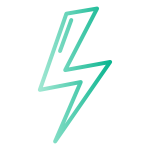 However, this is not the case. A fixed-rate doesn't mean it's an all you can eat buffet. Your bill will increase or decrease depending on your energy use. It's just that the unit rate and standing charges stay the same for the period you're on that fixed tariff. Sadly you don't have the free reign to take as many hot showers as you can.
The advantages of a fixed tariff are that you know your energy prices per kWh and your standing charges are going to stay the same for the period of your contract. Remember, this DOES NOT mean that your bills will stay the same every month no matter how much energy you use.
Historically, the disadvantage of a fixed tariff was that you were "trapped" in the tariff for the period of your contract by "exit fees" if you found a better deal elsewhere.
Exit fees mean that to leave your contract you would have to pay a penalty - typically about £30 to £50. While many of the bigger energy suppliers such as SSE, Npower and Scottish Power still have exit fees on the majority of their fixed tariffs, newer small suppliers like those on our list have ditched the exit fees. In fact, even larger suppliers like EDF Energy are willing to waive fees for certain justifiable reasons such as moving.
This is good news for customers as it means that it's easier to switch suppliers if you can find a better deal. It is also a sign of good faith from the suppliers as they are committing to try to keep their customers with good customer service and cheap prices instead of punitive measures.
What about Smart Meter-only tariffs?
As the UK moves ever closer to a fully integrated smart meter energy future, comparing energy tariffs based on their unit rates and standing charges may well become a thing of the past.
Smart meters can send out energy use information from millions of homes back to the providers on a daily basis, unlike the monthly meter readings we know and love. This has given rise to the possibility of ultra-variable tariffs where the price of energy changes multiple times within a given day, depending on demand and supply.
Octopus Energy is actually an early entrant in this somewhat dystopian energy future. Their Agile tariff requires eligible households to have a compatible smart meter. It's worth noting that this is essentially Economy 7 on steroids, meaning that the Agile tariff is only available for electricity and not gas.
The following graph demonstrates how it varies throughout the day. Let's see what the different lines mean:
The pink dotted line represents an average electricity unit price.
The solid pink line represents the changing unit price of Octopus Agile.
The light solid blue line represents electricity use throughout the UK.
Conversely, let's understand what the numbers on the sides are:
The pink numbers on the right represent the price of a unit of electricity in pence.
The blue numbers to the left represent electricity use in the UK.
The grey numbers along the top are times of day.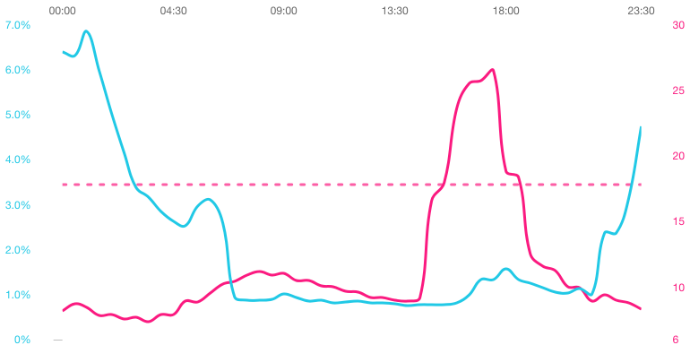 While the regular electricity tariff keeps the price of electricity at about 17p per kWh the same throughout the day, the Agile tariff is all over the place depending on the time of day.
Between 9pm and 1pm the next day, Octopus Agile prices its electricity between 5p and 10p cheaper per kWh than most of its competition. However, during the evening, you are in for a rude awakening because Octopus will almost double the price of electricity when compared to its most expensive competitor. Meaning you better watch out if you need to brew a cuppa or take a hot shower. In any case, it's worth noting that is unique electricity tariff relies solely on renewable energy.
At the moment, Uber-like energy tariffs like this one are are a rarity. However, if these early experiments turn out to be a success, expect to see more energy suppliers to jump on board. When that happens, it's not just unit rates that will matter but also how much energy providers raise or lower their base rate as well as for how long during the day. It will be a brave new green energy world for sure.