Solar Panels & Tiles UK: Costs, Grants & Manufacturers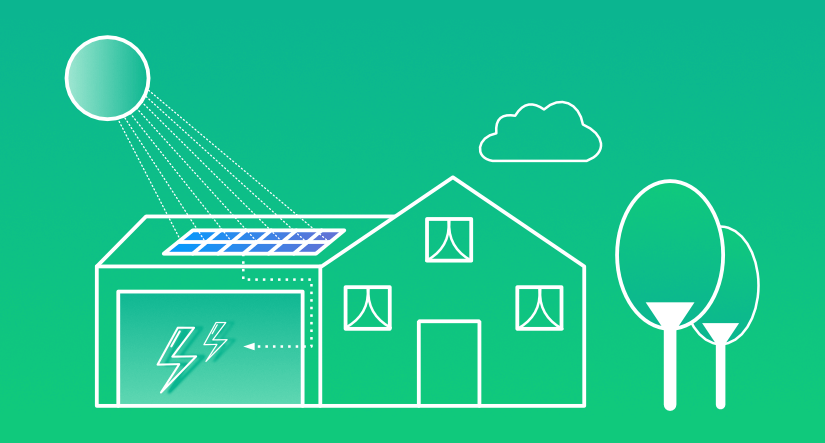 According to the Solar Trade Association, over 1 million British households now have solar systems installed on their property. This is in part thanks to the decreasing costs of solar technology, but also the government's Feed-in Tariff incentive in which homeowners earn money for the energy generated. However, government support for solar energy and their financial incentives have plummeted in recent years. So is installing solar panels still worth it?
---
In this guide to solar panels in the UK, we take a look at the different types of solar panels, the costs involved, solar suppliers and if it's still possible to get free solar panels in the UK. We also take a look at whether they still represent a good investment and add value to your property.
---
Contents:
---
Types & Costs of Solar Panels
Britain may not be blessed with abundant amounts of sunshine, but with solar panel technology, it's still possible to power your home, business, car, motorhome and even your boat with solar energy. With recent advancements in solar tech, there are now more options than ever for utilising solar energy. The costs of solar panels have also decreased significantly over the past decade, making it an increasingly accessible and affordable solution for generating your own energy.
Roof-mounted Solar Panels
Home or business owners looking to use solar power can install 'solar PV' or 'solar thermal' panels on their property's roof in order to generate their own electricity or heating. To learn more about how solar PV and solar thermal panels work, check out our Ultimate Guide to Solar Energy.
Solar PV Panels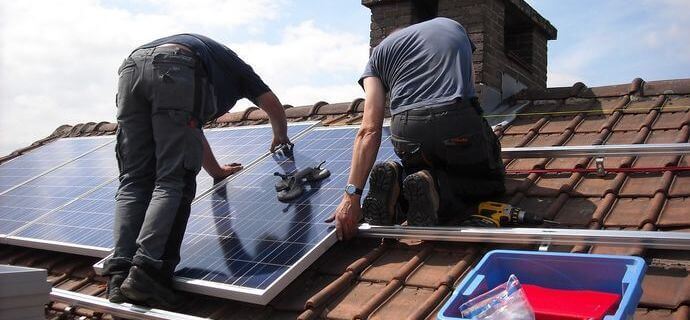 If you've ever seen a house with solar panels fitted to the roof, they were probably Solar PV, or 'Solar Photovoltaic' panels. They are the most common type of solar panels and are used along with an inverter, to convert the sun's rays into usable electricity for the home.
To install solar PV on your roof can cost anywhere between £3000 and £9000 depending on the size, number, brand and capacity of the panels. The Energy Saving Trust estimates that it would cost an average size household between £5000 and £8000 to install solar PV panels on their property.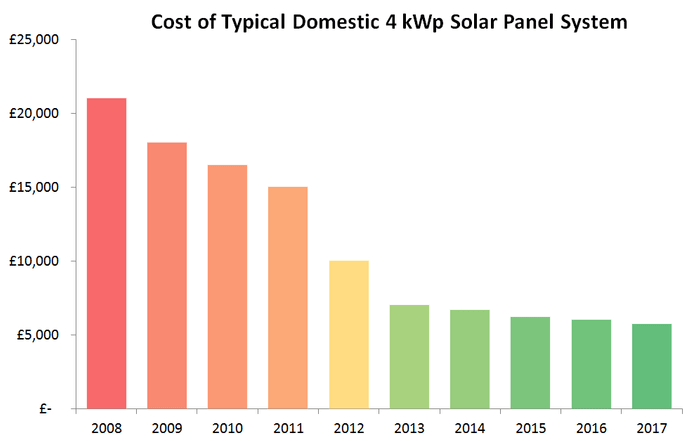 There are many suppliers of solar panels in the UK and even Ikea have gotten in on the act to provide low cost panels, as explained in the solar panel manufacturers section below.
Solar Thermal Panels
A lesser-known type of solar panels are 'solar thermal' which use the sun's energy to heat water inside a cylinder to contribute to your home's heating.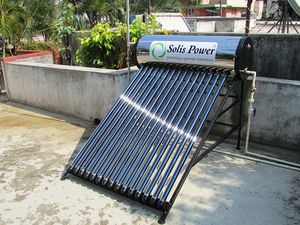 To install solar thermal panels are usually slightly cheaper at around £4000 to £5000, according to the Energy Saving Trust. However, the savings you can make on your heating bills are fairly low since they are not able to provide much heating in the winter and will need topping up from your conventional boiler.
The Energy Saving Trust estimate modest savings of around £50 to £80 a year are typical for the average UK household with a solar water heating system.
DIY Solar Panel Kits
To save on solar panel installation costs, DIY solar panel kits are available that provide you with everything you need to install and setup solar panels on your property. Solar panel kits including the panels, inverter, roof-mounting rack and cables cost anywhere between £600 and £4500 - a fairly significant saving compared to paying a company to supply and install them for you!
Solar Roof Tiles
To some, a roof covered in solar panels can be an eyesore. To reduce the visual impact of roof-mounted solar panels, it is now possible to buy 'solar tiles' to replace your current slate roof tiles. Whilst they cost far more and are less efficient than regular solar panels, they are useful for getting around tough building regulations or for retaining the original appearance of a building for example.
Solar roof tiles typically cost up to three times as much as solar panels, so you could be looking at up to £10,000 to £12,000 for a 3KW solar tile system. The Energy Saving Trust estimates that solar roof tiles can earn a homeowner around £7250 in FIT payments over 25 years (around £290 a year), so you could have a long wait to recoup your costs.
Solar Panels for Boats
Boat owners can also benefit from solar panels for generating their own electricity to power onboard appliances. Whether you own a modest houseboat or luxury mega-yacht, solar panels for boats can be fitted to provide you with electrical power whilst on the water.
For the cheapest solar panels for boats you can expect to pay upwards of £80 each for a low power 20W solar panel or up to £800 for a more powerful 60W version.
Solar Panels for Caravans and Motorhomes
Caravan and motorhome owners can utilise roof-mounted or portable solar panels to power their vehicle's battery, generator, lights, fridge, attic fan, television, and other electrical devices when there is no access to mains electricity. In recent years, caravan solar panels kits have increased in availability, allowing year-round, off-grid access to electricity.
Solar panels for caravans or motorhomes typically cost anywhere from £60 for a basic portable 10W solar battery charger kit up to £400 for a high capacity 150W roof-mounted solar kit.
---
Is your Property Suitable for Solar Panels?
If your property has its own, accessible roof then it is likely you can fit solar panels to your property. You may be surprised to know that even on overcast and rainy days, solar panels can still generate power, albeit less than on a long summer's day.
Key factors that make your property ideal for solar panels
Located in the south of the UK (although they still work anywhere in the UK!)
A south facing roof to maximise sun exposure, although east and west facing works too
A roof that isn't blocked by shade from overhanging trees or nearby buildings
A roof surface area of at least 12m² for a small installation
Space in your loft to place the inverter (connects the panels to your electricity supply)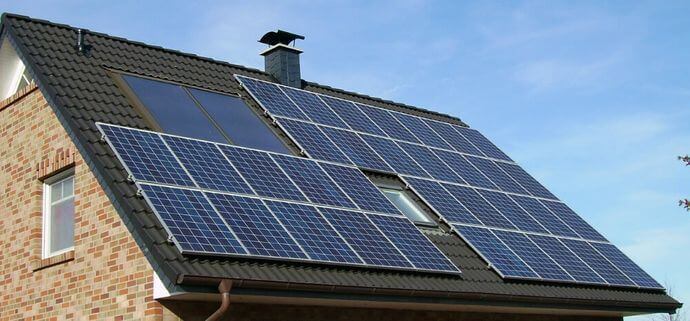 Do I need planning permission to install solar panels?
Since 2008, most homeowners don't require planning permission to install roof-mounted solar panels. That's because government legislation was passed to make installing them a 'permitted development', in most cases at least.
Exceptions to the rule
If your property is a listed building
If your property is located in a conservation area or world heritage site
Other restrictions and guidelines
Solar panels can't stick out more than 20cm above your roof's surface
Solar panels can't be above the top of your roof's highest point, excl. chimneys
Solar panels can't be fitted to the side of a building
Solar panels should be fitted to cause the least amount of visual impact to the building
---
Solar Panel Manufacturers in the UK
If you're keen on installing solar panels, it's a great time to do so as there are a rapidly growing number of solar panel manufacturers and suppliers entering the market. Whether you're on a tight budget or have the cash to splash on some sleek high-end panels, here are a few solar panel companies to consider.
Cheap: Ikea Solar Panels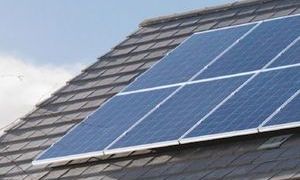 You may be surprised to discover that the Swedish furniture giant are now also supplying affordable solar panels in the UK.
Ikea are offering three different models ranging from a basic pre-made set of blue panels, to a custom designed system that is built into your roof to appear sunken into the roof tiles.
Ikea 'SOLSTRÅLE Rooftop' solar panels: £3535 for 6 (inc. installation)
Ikea 'SOLSTRÅLE Rooftop Plus' solar panels: £3800 for 6 (inc. installation)
Ikea 'SOLSTRÅLE Built-in Plus' solar panels: £5250 for 6 (inc. installation)
If you only install the panels, the energy generated must be used immediately. But to store energy for later use, you can also add the Ikea solar battery storage system for an additional £2935.
Mid-range: Tonik Solar Panels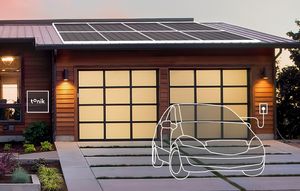 If you've read our Tonik Energy review, you'll be well aware that they are not only one of our highest rated energy suppliers, but they are also committed to making solar technology available to customers as part of their mission to halve their energy costs.
Tonik design, manufacture and install their own solar panels for British households, plus they are also developing solar batteries.
Tonik solar panels: from £6250
Tonik solar storage batteries: 'coming soon'
Whilst Tonik are already supplying their solar panels, you'll have to wait to order their storage battery system. We'll update this page once prices are available.
Premium: Tesla Solar Roof Tiles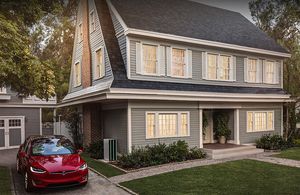 Tesla, the Californian clean energy technology company are most famous for their electric cars and forward-thinking but controversial founder, Elon Musk. Tesla have taken solar panels to another level with their innovative 'solar roof' tiles.
These tiles are made from 'tempered glass' and designed to mimic the colour and appearance of traditional roof tiles. This will allow you to generate solar power without affecting the appearance of your property.
However they're expected to be vastly more expensive than regular solar panels due to their innovative technology and the installation costs. You're also paying a premium for the brand name. The size of your roof will also have a major impact of the cost and so Tesla provide homeowners with a quote first.
Tesla solar roof tiles: UK prices TBC (Solar Power Portal estimate £100 m²)
Tesla Powerwall solar storage battery: from £5970
Tesla solar roof tiles can be pre-ordered in the UK by paying an £800 deposit and are expected to be ready for installation later in 2018.
---
Solar Panel Scams
Whilst the vast majority of solar panel suppliers in the UK are reputable and regulated, there have also been reports of solar panel scams, usually targeted at elderly and retired people. Solar energy scams involve unregulated companies and door-to-door salespeople over-selling and exaggerating about the benefits or financial savings of installing solar panels.
Scams have been reported of companies installing panels on inefficient, northerly-facing roofs at vastly inflated prices - up to £18,000 for one retired British couple in 2013.
There have also been solar panel scams in the UK involving financing options, whereby crafty salespeople trick homeowners into signing finance agreements or contracts for solar panels with hidden fees and extremely harsh penalties for missed payments. These contracts may also be unbreakable once the customer learns that the panels have not lived up to the promises they were sold on.
Therefore, it pays to do your research before investing in solar panels and choosing a reputable supplier such as Ikea, Tonik or Tesla.
---
Solar Panel Grants & Schemes
Installing solar panels on your property is not exactly cheap, however, costs have reduced over the past decade. To fund your solar panel installation you may be looking for solar panel grants, discounts or schemes to make it more financially viable.
In the past there were various incentives and grants to reduce the cost of solar panel installation - and even ways to get free solar panels. Unfortunately, these incentives are few and far between now, but there is still one way to recoup your investment - the 'Feed-in Tariff' scheme.
What is the Feed-in Tariff Scheme (FITs)?
The Feed-in Tariff is a government scheme created in 2010 to encourage more people to generate their own renewable energy. The scheme enables homeowners to be paid by their energy supplier for the energy they generate and use through their own solar panels or wind turbines for example. This is known as the 'Generation Tariff'. Surplus energy that the homeowner generates but doesn't use, can also be exported to the national grid for an additional payment, known as the 'Export Tariff'.
All energy companies with more than 250,000 customers must offer the Feed-in Tariff, although smaller companies can choose to offer it. For the energy you use, these suppliers currently pay per unit generated in pence per kilowatt hour. The rates are set by Ofgem and the government and change often, depending on the capacity of the solar panels and the date on which your panels were installed. The rates change yearly to keep up with inflation, however you are guaranteed payments for 20 years under the terms of the scheme.

The original FIT rate when the scheme first launched in 2010 was a huge 43.3 pence per kilowatt hour (kWh) of electricity produced. However, it proved so popular that they have decided to cut it drastically in the years since. In 2012 it plummeted to 12.92p and then to 4.39p in January 2016, which is significantly less than average electricity unit rates.
In 2018, rates remain low but are dropping at a much slower pace. For solar PV systems installed between 1st April and 30th June 2018, the rate is 3.85p p/kWh. By March 2019, this is set to drop further to 3.64p. For the energy you don't use, you can currently export to the national grid for 5.03p per kWh.
The Feed-in Tariff whilst less appealing than it used to be, still has the benefit of offsetting some of the cost of investing in solar panels, making it a more affordable solution to your energy needs over the long-term. In fact, between 2015 to 2016 the FIT Scheme paid out more than £1.1bn in energy generation payments.
If you are considering investing in solar panels, do it quickly as the government is set to end the FIT scheme in April 2019! Customers already on the scheme will not be affected however and continue to receive payments over the next 20 years.
If you live in Northern Ireland, the FIT scheme does not apply, however there is a similar scheme called 'NIRO' (Northern Ireland Renewables Obligation).
Government Grants for Solar Panels
Since 2010, there are no longer any government grants for covering the costs of solar panels for homeowners in the UK. The Feed-in Tariff is their only contribution and incentive to the British public to invest in solar energy.
---
Can you get Free Solar Panels in the UK?
When solar panels first became available to the mass market, various companies offered homeowners free solar panels in exchange for retaining ownership of the panels and the payments they produced from the Feed-in Tariff scheme. These were known as 'rent-a-roof' schemes and various solar panel companies launched them to try and profit from FIT payments.

Unfortunately, these days it's no longer possible to get free solar panels in the UK because the Feed-in Tariff payment rates were cut dramatically in 2016, making it less viable for companies to give them away free. So unfortunately, if you want to install solar panels, you'll have to fork out for them yourself.
---
How much could Solar Panels Reduce your Energy Bills?

As well as doing your bit for the environment, the main purpose of solar panels is of course to reduce your energy bills. For some homeowners it is possible to power their home with 100% self-generated electricity, whilst others may need a top-up from the National Grid. However, it all depends on factors such as where you live, which direction your panels face and how many panels you have installed.
With a decent solar panel system your energy bills should drop significantly during the sunnier months. Any surplus energy you produce can also be sold back to the National Grid through the Feed-in Tariff, as we looked at above. This means you could cover your electricity bills and make a small profit on the energy you produce. Of course this depends on the factors listed above and on our famously changeable climate.
Let's take a look at the experiences of customers who have installed solar panels.
"In one year I've made around £700 by generating electricity and selling some back to the grid through what's known as a 'feed-in tariff'. After comparing my previous two years' bills I reckon I've also saved £500 in energy costs. That's far more than I had hoped."
And here's another...
"Before our panels were installed we paid an average of £104 a month for electricity. That has halved. The panels provided the biggest part of the reduction but they have also provided an incentive to regularly monitor our energy usage to get the best value."
From these and other examples we've seen, it appears many homeowners manage to generate around £50 per month in feed-in tariff payments, which is therefore £50 slashed from their energy bills.
Tonik Energy also estimate that with their solar panels, over the course of 25 years they could save you £20,000. That's equivalent to £800 a year, or £67 a month.
Of course it depends on your individual usage and situation, but clearly savings can be made. And if you consume less energy than you generate, you're essentially running on 100% free electricity and making a profit!
---
Will Solar Panels Add Value to your Property?
Under the right circumstances, solar panels may add some value to your property and make it more appealing to certain buyers, should you come to sell your home in future. They also have the potential to increase your home's energy efficiency rating which according to YouGov, is the third most important factor buyers consider when purchasing a property. In fact, improving your home's energy efficiency rating could add 14% to the value of your house on average, according to research.

However, Which? found in their 2017 research that many UK estate agents do not believe solar panels add value to a property. Only 8% of agents felt solar panels add value, with 17% believing they actually decrease value and 67% believing it makes no difference.
Across the pond in the USA there appears to be a different opinion. Sunpower.com claims solar panels could add 3% to 4% to the value of the average house in California and that buyers are happy to pay $12,000 to $15,000 more for a house with solar panels already installed. However, California in particular is known to be extremely passionate about renewable energy, where the industry is booming.
Research in the USA has also shown values of homes with solar roof tiles are boosted by up to 10%. Tesla also claim their solar tiles can give your property a fairly significant boost in value, although there is no proof of this in the UK yet.
---
Are Solar Panels Worth it? Our Verdict
At The Switch, we're big fans of solar energy and encourage as many households as possible to switch to renewable energy. Although Britain may not be rushing to install solar panels as feverishly as in previous years, a million solar-powered households still shows there is a demand.
---
As tech such as solar batteries and in-home electric vehicle chargers become more affordable, solar panels could also open up opportunities for powering more of your life with green energy.
If you choose a reputable company and pay a reasonable price, in our opinion solar panels are still a good financial investment. It may take anywhere between 5 and 25 years to recoup your money, but we think the immediate benefits to your energy bills and the environment are worth the initial outlay.
If you decide to go for it, we'd recommend doing so soon, before the FIT scheme ends in April 2019 to ensure you don't miss out on the feed-in tariff payments. However, even if you don't fancy taking on the cost and hassle of installing solar panels, you can still embrace solar energy by switching to a green energy supplier.