Established by the founders of Virgin Mobile, Pure Planet is one of the UK's first "app-only" energy supplier and is using innovative technology and an alternative pricing model to offer customers cheap green energy. Not only does it claim to sell energy with a 0% mark-up, it has also ditched call centres in favour of an app-based chatbot that uses artificial intelligence to help you via your smartphone. Let's see how the balance between price and customer service stacks up.
---
In our Pure Planet review, we look at all the key aspects of this unconventional supplier, including its customer service, tariffs, pricing and account management, to help you decide if it's worth switching to or not.
Pure Planet Review
Interested in finding out more about this technology focused supplier before you switch? In our independent Pure Planet review we give you the lowdown on all things related to the provider.
1. Customer Service
When it comes to needing help from your supplier's customer service, you would normally expect to speak to someone in a call centre, or via email if your query isn't urgent. But Pure Planet has flipped the usual way of doing things on its head, instead operating all of its customer service entirely via its smartphone app.
Pure Planet does not offer any phone numbers or email addresses at all, but its chat service "WattBot" will pass you on to an agent (via email or through a callback) if it can't deal with your issue. Not having a call centre or a large support staff means they can operate with lower costs, passing these savings on to customers by keeping tariff prices low.
Wattbot seems to be little more than a help centre search tool with a friendlier and more personable interface to encourage customers to search for answers to their energy queries on their own. However, prospective customers are assured that if serious issues do occur humans are available as a last resort to find a solution for your issue.
The question is - does this practice result in better customer service? Or does it just add another hoop for the customer to jump through?
Pure Planet Reviews
This approach has been met with an overwhelmingly positive response from Pure Planet reviews online. The vast majority of customers have embraced the concept, with around 90% of Pure Planet reviews on the consumer review site Trustpilot being positive.
Customers generally appear very satisfied with the quality of the app and the support it provides. Others were also pleased with the ease of the signup steps, and that they were kept informed by email throughout the switching process.
Just switched seamlessly from Octopus Energy. App gave a countdown and received various emails along the way with updates, all very straight forward. Highly recommended!
However, there is a small contingent that has felt quite the opposite and been left annoyed at the lack of support staff, frustrated with the app not working as they expected and, ultimately, left in the lurch without a quick solution to their issues. Others have left angry reviews about the lack of contact details, which leads us to believe Pure Planet could do a better job to set realistic expectations for customers.
Worst customer service I've EVER experienced. They expect you to talk to the useless wattbott thing on their app which can never ever resolve your query. They don't give a crap about their customers. Stay well away.
This last review shows the impact that relying solely on technological solutions to provide customer service can have. Though the app seems to be working for most, a small number do feel ignored, something that all service companies, such as energy providers, should aim to avoid.
Overall, the customer service picture is surprisingly positive despite the fact that Pure Planet does not offer customer service in the traditional sense. If you're happy to rely on an app to solve all your queries, it will suit you down to the ground and seems to work for the provider's current crop of customers. For those of us that use our smartphones to manage our daily lives anyway, it shouldn't be much of an issue, and paying so much less is probably worth the sacrifice.
2. Tariffs & Prices
Pure Planet has some of the lowest energy prices in the UK. This is because they claim to sell energy at wholesale cost, while other providers "mark up" to ensure they make money. Instead, Pure Planet sells energy on for the exact same price they pay for it.
The provider goes as far as having a bold "Zero Markup" claim right on the front page of its website where they state that it offers a "fair price".
They also don't charge a daily standing charge - a fixed amount suppliers charge per day regardless of energy usage. So how do they make any profit? Well, they make their money by charging a flat monthly membership fee of £5.50 per fuel, per month.
The question for Pure Planet - and a handful of suppliers such as Outfox the Market that have gone with this model - is whether this is little more than a rebranding of the standing charge or whether it actually benefits their customers.
Pure Planet tariffs are some of the most competitive on the market, be they green tariffs or otherwise, with most online reviewers claiming huge savings compared to their previous suppliers.
I have several friends who have moved across since myself and love the service and cost overall compared to the big six - £600 saving a year - it's a no brainer!
Another key factor to be aware of is that Pure Planet offers both fixed and variable tariffs, with its variable deal coming in a little more expensive but offering no fixed term or exit fee. That peace of mind is a very tempting value proposition, especially given that you'd still be paying less than if you were with many of its Pure Planet's competitors.
3. Bills & Account Management
As mentioned above, to manage their account customers must do everything through the Pure Planet app. Customers receive monthly email statements along with PDF copies showing energy usage and how much they've spent. Customers can also check their bills from within the app and in keeping with their 100% digital ethos, they don't offer paper statements by post.
Submitting meter readings is, you guessed it, also done within the app. You simply tap in the numbers to send them to Pure Planet HQ. The app comes with a handy torch button if your meter is located in a dark cupboard.
Based on what the feedback we have seen, customers are very satisfied with using the app to manage their account, view bills and submit meter readings. Numerous Pure Planet reviews on websites such as Trustpilot have claimed the app is simple and well-designed and offers everything they need. This is clearly crucial for a company like Pure Planet, which thrives on leveraging the convenience of technology to attract new customers.
The app is really easy to use and makes it so easy to monitor usage and submit readings.
However, looking at Pure Planet app store reviews, the general opinion seems to be more mixed. The Google Play store shows an average rating of just 3.3 out of 5 and the Apple App store rates the app at 2.9 out of 5. These certainly aren't exemplary ratings for a company that relies entirely on the quality of their app.
Numerous reviewers have stated that the login link often fails to work, and that signing up on the app is difficult, while others have difficulty submitting meter readings. Others have complained that the app often displays errors and has a lot of bugs and technical issues.
Login is clearly going to be a pain point and Pure Planet needs to put in the work to make the experience as seamless as possible. A potential hassle-free solution could be based around text messaging a PIN to a registered phone in order to facilitate entry into the customer's account.
This app is rubbish. I'm unable to login, it simply goes round in circles sending me registration emails which fail with 'Invalid Login Link' error message. Not impressed.
While we feel the app-only account management concept has potential, clearly this only works if the app is well-designed, reliable, and easy to use for all users. There may be plenty of happy customers overall, but there are a worrying number of reviewers that are unhappy with the app. In short - good concept, but the execution needs work.
Summing Up
All things considered, we are fans of Pure Planet and their innovative approach to making energy bills cheaper through the use of technology and alternative pricing models. Their prices are competitive and customer service does not seem to have suffered even with the lack of a call centre. The app has real potential once the technical issues are fixed, but for now it still needs work.
About Pure Planet
Next, let's take a look at the company, its ethos, history, and the key people involved.
Mission & Ethos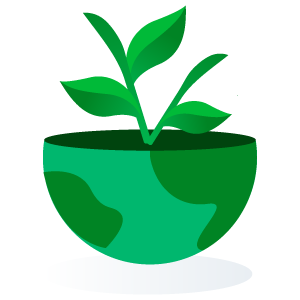 Pure Planet was established with the mission of making "a renewably-powered Britain" by making renewable energy more affordable and more accessible to British households. To achieve this they decided to sell energy close to wholesale cost with supposedly zero markup. The provider only makes a profit from charging a monthly membership fee. As a result, customers get access to the cheapest possible energy supply and Pure Planet still makes a profit.
Pure Planet was also set up to be entirely digital to reduce running costs, and w tashe UK's first app-only supplier. This means no expensive call centre, fewer staff and all customer service handled by artificial intelligence through the Pure Planet mobile app and the automated chatbot.
It also believes in looking after its staff and running a happy workplace. Pure Planet not only follows the Living Wage scheme to ensure staff are paid fairly, but also aims to recruit disabled people and those with health conditions to ensure positions are open to everyone. In fact, it was shortlisted for the "Happiest Workplace" award at the Wylde IA Happiest Workplace Competition - an award for companies "that go the extra mile to ensure their staff are cheerful and fulfilled."
Pure Planet has also made strides to offset carbon emissions generated by its employees when they commute to work. This may have been facilitated by the fact that BP has purchased a 25% stake in the company as part of the energy giant's initiative to cut down on carbon emissions.
We're motivated by a triple bottom line: people, planet, as well as profit.
History
Pure Planet was launched in the spring of 2017 by a team of former Virgin Mobile founders including Andrew Ralston, Steven Day, Tom Alexander and Chris Alliott. This tech dream team also set up popular network EE and also previously ran Orange and T-mobile.
Together, they came up with the idea to launch an affordable renewable energy supplier that uses technology to ensure low price, and partnered with BP to finance the business. BP own 25% of Pure Planet and handle the sourcing of renewable energy for their customers.
In 2018, another mobile network expert, Bryn Jones, joined Pure Planet as their chief technology officer to further develop the app and improve the WattBot AI system. In 2018, Pure Planet also reached 30,000 customers, just a year after launching.
Pure Planet will periodically run referral schemes where its customers can refer others to the company and receive a reward. Generally what happens is that when a customer refers a friend or family member through a unique link then both parties will receive anywhere between £25 and £50 each in Amazon vouchers.
Pure Planet Tariffs
Pure Planet offers a few 100% green tariffs for both dual-fuel and electricity-only customers. Its 12-month fixed tariff is a fairly cheap renewable energy deal, especially when compared to the price cap set by Ofgem, and it also includes 100% carbon offset gas.
Since last year, Pure Planet has brought down its monthly membership fee by £2.50 a month. It's also offering a £30 discount for customers on a dual fuel tariff. This means that signing up for a green tariff with Pure Planet is almost £100 cheaper than it was a year ago, making it a great time to consider switching.
Pure Planet Business Tariffs
Currently, Pure Planet do not offer any business-specific energy tariffs.
Pure Planet's Renewable Energy
Next up, lets take a look at where their energy is sourced from and how much of it is clean and renewable.
Renewable Electricity
Pure Planet supplies 100% renewable electricity to all its customers. Partners BP buy renewable electricity from a range of suppliers on their behalf - made up of a mix of wind energy, solar energy and hydropower.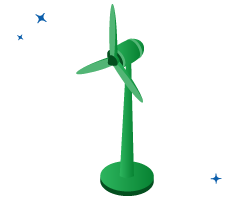 Currently, Pure Planet does not publish much information about the energy they purchase. However, the company is keen to state that its energy mix for last year was made up of over 80% wind energy and almost 20% solar energy. Nevertheless, it does promote the fact that their energy is certified by the Renewable Energy Guarantees of Origin (REGO) scheme - an Ofgem regulated scheme that serves to prove that the energy generated is from renewable sources.
It would be great to see Pure Planet look into some emerging forms of renewable energy such as tidal energy and biomass, which show great promise.
Did you know?
As with all suppliers providing 100% renewable electricity, Pure Planet customers receive the same electricity from the National Grid - a melting pot of electricity sourced from renewable and non-renewable sources. However, for every unit of electricity their customers use, Pure Planet guarantees to generate or buy and put back an equal amount of renewably-sourced energy.
As renewable energy generation and usage increases in the future, the percentage of renewable electricity all customers receive from the grid will increase. In this way, Pure Planet and other suppliers are helping to increase the renewable portion of the UK's electricity.
Green Gas
Pure Planet doesn't supply renewable gas in the form of green gas generated from biofuels. However, it does commit to offset the harmful carbon dioxide generated from their customers' gas usage by buying "CERs", or Certified Emissions Reduction certificates. CERs are issued by an organisation called the Clean Development Mechanism (CDM) to greenhouse gas projects in developing countries. These projects earn one certificate for each metric tonne of carbon dioxide (CO₂) they remove or prevent from entering the earth's atmosphere. These can then be sold on to companies worldwide who want to use it as a way to offset their own emissions.
Pure Planet buy these certificates to compensate for the emissions that the gas it sells creates. The certificates are uniquely numbered and once bought, then become invalid and cannot be sold on again, since the CO₂ saving has already been made. This money then helps to fund future emission-saving projects which continue to reduce emissions, meaning new certificates can be earnt and sold,.
As a result of buying CERs, Pure Planet have prevented over 35,000 tonnes of CO₂ from being emitted into the atmosphere.
Pure Planet login
As an app-only supplier, your Pure Planet login is an especially important feature. The provider requires customers do everything through a smartphone including: submitting meter readings, managing their account, paying bills and even contacting customer services.
The Pure Planet app uses artificial intelligence and an automated chatbot system called "WattBot". When customers have a question, they simply type a message on the app and the WattBot artificial intelligence system will reply with a message, hopefully in the same way a member of staff would. If the customer cannot get the answer they need from the bot, they can ask to be contacted by a member of staff by phone or email as a last resort.
The WattBot system is being constantly improving and to make it more intelligent over time in order to be able to answer more detailed and complex questions from customers. By having this slick technology answer customer queries, they can function without a traditional call centre and the rent, overheads and staff costs that come with it.
Login help
You shouldn't have too much trouble remmebering your Pure Planet login, as it's just the email address you signed up with. You don't have to remember a password to get into your account.
Pure Planet Smart Meter
Pure Planet does offer smart meters to its customers, but the Coronavirus pandemic meant a stop to its rollout of the technology. Those interested in booking an installation will be pleased to know that the Pure Planet smart meter rollout is back underway, though for a while it will be focused on customers who had their appointments cancelled earlier in the year.
If you're a member and you're interested in an installation, you don't need to do anything - once the Pure Planet smart meter rollout reaches your area you will be notified to arrange an appointment. Those worried about coming into contact with an engineer are assured that the process is now contact-free, with engineers following distancing guidelines and wearing PPE.
Warm home discount
Pure Planet customers are eligible for the Warm Home Discount either through the Core Group or the Broader Group. Members of the Core Group will have been notified by government and the £140 discount will be taken off their bills automatically.
If you're a Pure Planet customer and you think you may qualify for the discount under the Broader Group, you should apply via the Warm Home Discount page on the provider's website. Applications under the Broader Group must be done year-on-year, and you're not guaranteed to receive it just because you got it last year. The criteria can change from one year to the next and the discount is applied on a first-come, first-served basis.
Pure Planet Contact Number
As a result of its 100% app-based approach, there is no Pure Planet phone number or email address to contact an agent if you're experiencing issues.
The only way to contact Pure Planet is via its website or using the in-app chat feature. For more specific inquiries, the chat function will forward you to a member of their customer service team. You can also try the Pure Planet community forum to find an answer to your problem.
Want the number to report an emergency?If you're a Pure Planet customer and you want to report a gas emergency, the number to call is 0800 111 999 (this is a 24-hour line). To report a power cut, call 105.