With a base of around five million customers, EDF Energy is one of the UK's biggest energy providers. It is a French-owned company which entered the market in 2002 by acquiring several formerly state-owned electricity boards and power stations. However, in an increasingly competitive market with more and more green options, does it continue to hold its weight?
---
Reviews: Is EDF Energy any good?
The UK's major energy providers tend to get a bad rap for taking advantage of their established position to charge over the odds without offering a particularly good service. Customer reviews on sites like Trustpilot have historically reflected this, but increased competition in recent years seems to have lit a fire under a few of them.
EDF Energy reviews certainly show signs of a company working to keep its customers happy. Of the around 17,000 reviews left on Trustpilot for EDF, an impressive 73% gave it the best possible rating of five stars, with well over three quarters reporting having had a positive experience on the whole.
So what do EDF Energy reviews say is so good about its service? A look at recent reviews suggests that the main thing it's getting right is its customer service. The vast majority of five-star ratings cite the ease and efficiency of its online chat service for resolving issues:
Oliva's help was quick, friendly and to the point. My queries and concerns were solved and the chat function was easy to use. A good experience all in all.
Many more EDF Energy reviews read almost like carbon copies of this one, which suggests to us that there is something of a drive on EDF's part to gets its live chat service up to the highest standard. We also suspect that they're requesting these Trustpilot reviews from happy customers - which we find nothing wrong with, as long as customers are happy!
Other positive EDF reviews praise other elements of its customer services department, which suggests to us that resolving problems and complaints are something that the provider excels at, but are there areas where it could improve? There certainly exists a minority of customers who are unhappy with their service, with just over 20% of reviewers finding some sort of fault with EDF.
Negative EDF Energy reviews are largely focused on billing, particularly its calculation of customers' final bill, which members often take issue with:
Disappointing experience when switching my supply. Firstly they took three months to provide final bills for gas and electric and then they fabricated a much higher figure for the electricity reading which meant they tried to overcharge me by about £100.
This is a common complaint in the industry in general - people often take issue with early termination charges and leave their provider on a sour note. Some customers who have had a smart meter installed have also complained about their billing.
Providers with a large customer base are also particularly susceptible to billing complaints for the simple reason that they have a lot of bills to process, but one thing we would say in EDF's favour is that if you do have a problem, it seems to have a good track record of resolving issues. On the whole, EDF Energy reviews seem to paint a positive picture.
Tariffs: Is EDF Energy green?
You'll see in our breakdown of EDF's fuel mix below that it sources low-carbon, if not entirely green, energy. More than two thirds of the power going towards EDF Energy tariffs comes from nuclear plants. How you feel about this will depend on your position, but it can certainly be argued that it relies far less on burning fossil fuels than the national average.
Rather than offer green tariffs, it marks the low-carbon tariffs (sourced from nuclear energy) on its website as blue tariffs. You can find out more about EDF tariffs and also get a quote of your own via the EDF Energy tariffs section on its website. If you want to balance cost and lowering your carbon impact, we would say EDF represents a viable option that is worth considering for your home - particularly its Direct tariff, which represents good value for money.
EDF does not offer tariffs which allow you to offset your carbon footprint, a strategy which is often criticised as it allows providers to continue burning fossil fuels and call their tariffs green. EDF Energy tariffs do not mislead customers in this way, at least, so we think there is something to be said for its low-carbon blue tariffs in this regard.
Fuel mix
Like all UK energy suppliers, EDF Energy is obliged to release all information pertaining to its fuel mix (how it sources its electricity and gas), which it does on its website. Here is the breakdown:
| - | Coal | Natural gas | Nuclear | Renewables | Other |
| --- | --- | --- | --- | --- | --- |
| EDF Energy average | 5.2% | 10.84% | 72.07% | 11.73% | 0.16% |
| National average | 3.9% | 39.4% | 16.6% | 37.9% | 2.2% |
Last updated: May 2021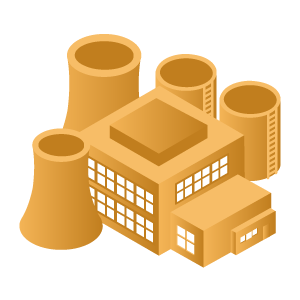 As you can see, EDF relies heavily on nuclear energy for its fuel generation. While this is a contentious issue, not being in the strictest sense a renewable resource, it does mean that EDF sources considerably less of its energy from burning fossil fuels than the national average.
Many argue that nuclear power represents a viable and cleaner alternative to fossil fuels like coal or gas, and how you will feel about EDF's fuel mix will depend heavily on your position.
EDF Energy login
If you're an existing customer, you can use your EDF Energy login to access the customer portal available on its website or the EDF app. The app allows you to manage your account from your smartphone. Here's a full list of its features:
Use your fingerprint to log in quickly and securely.
Switch between your accounts and properties.
Check your account balance and energy use.
View your bills, payment history and tariff information.
Pay your bills instantly.
Get updates and reminders about your account.
Get help from an agent.
Submit meter readings (or send a photo so EDF can do it for you).
Get meter reading notifications.
Use the app's in-built torch to help you read your meter in the dark.
Check your PAYG balance and top up your PAYG meter.
Get low PAYG balance alerts or set up automatic top-ups.
View your top-up history.
Unfortunately, you can't use your EDF login to top-up if you've got a traditional prepayment meter - you'll have to upgrade to one of EDF Energy's smart meters! You can, however, log in to manage other aspects of your account.
This list of features pretty much covers everything you need to manage your account from your smartphone. How well does it do this? Fortunately, reviews for the app on both the App Store and the Google Play store are extremely positive, on which it has average ratings of 4.6 and 4.3 stars out of 5 respectively.
Some bugs are reported on the app but, generally, EDF seems to be performing better than most of its competitors in this regard. To download it, just head over to the EDF website.
Login help
To log in to your account via the website or through the mobile app, you'll first need to generate your EDF login details by registering, which you can do by clicking the button saying either "Register your home" (for domestic customers) or "Register your business" (for business customers) on the login screen.
If you have already registered for an EDF login, you just need to type in your the email address you registered with and then your EDF password into the designated boxes. If you've forgotten either of your details, just click the link saying "Forgotten your email address?" or "Forgotten your password?" as applies to your case and you'll be redirected to a page that will help you recover your account.
EDF Energy smart meter
EDF dedicates a large section of its website to smart meters. It has put new procedures in place to keep both its customers and its engineers safe in the wake of the COVID-19 pandemic, so installations are up and running again. You can see a video on the new installation process on the EDF Energy smart meter page.
The benefits of getting yourself an EDF Energy smart meter are the following:
Control your usage - Track your spending in real-time. This will help you make little changes to reduce your energy usage and your bill.
Less hassle - Smart meters send out readings automatically, meaning you can get accurate billing information without lifting a finger.
Help reduce your carbon footprint - Tracking and learning where you can best limit your energy usage will help you bring down your carbon footprint as well as your bill.
There are also different types of smart meter you'll want to consider - apart from the standard EDF Energy smart meter, the provider offers smart pay as you go (PAYG) meters. Smart PAYG meters offer customers the flexibility to top-up via the app, set alerts for when their balance is low and make automatic top-ups.
The government had set a deadline in 2020 for getting all UK homes and businesses set up with smart meters, and EDF was committed to helping the country reach this deadline. We think the benefits speak for themselves and recommend all EDF customers to book their installation sooner rather than later. You can book your smart meter installation via the EDF Energy smart meter page on its website.
Warm Home Discount
EDF Energy customers can get the Warm Home Discount deducted from their bill if they're eligible. The Warm Home Discount is a discount of £140 which people can qualify for in a couple of ways.
If you receive the Guaranteed Credit element of Pension Credit, you will qualify as a member of the so-called Core Group. Members of the Core Group need not apply for the discount; they will be contacted by the government to be informed of their eligibility and the discount will be credited automatically to their accounts.
If you don't receive Guaranteed Credit but you think you might still be eligible, you can apply for the EDF Energy Warm Home Discount, which it calls Support Plus and is otherwise known as the Broader Group. Support Plus operates on a first-come, first-served basis and you will have to apply before the deadline (not yet set by EDF) closes.
Applications for Support Plus will open late in 2020 and EDF has not yet released the criteria for eligibility. You can register your interest in the scheme on the EDF Energy Warm Home Discount section on its website, where it will ask you for your name, account number, mobile phone number and email address so you can be contacted when the scheme opens.
How do I contact EDF Energy?
Looking for an EDF Energy contact number? You can find numbers for several of the EDF departments you may be looking for in our handy table here:
| Department | Phone number | Opening hours |
| --- | --- | --- |
| Sales inquiries | 0333 009 7023 | Monday to Friday, 8am to 8pm; Saturday 8am to 2pm |
| General inquiries (existing customers) | 0333 200 5100 | Monday to Friday, 8am to 8pm; Saturday 8am to 2pm |
| Payments, balance inquiries & meter reading submissions | 0333 200 5108 | 24-hour line (automated) |
| Prepayment meter inquiries | 0333 200 5110 | Monday to Friday, 8am to 8pm; Saturday 8am to 2pm |
If you'd rather not ring up and spend time waiting over the phone, you can go to EDF's Help Centre on its website and get advice on a whole host of issues without wasting a second. The Help Centre has sections with helpful articles covering common issues for the following:
Bills and payments
Your meter
Your account
Moving home
Cost management and help with debt
Switching tariff or provider
Smart devices
Other advice and information
You also have the option to use the live chat function, through which you can chat to an agent to get your issue resolved. When we tried to get through it took a matter of seconds for an agent starting chatting, and reviews relating to the chat service suggest that this is the norm!
Looking for the number for a gas or electricity emergency?If you're an EDF customer and you want to report a gas emergency, the number to call is 0800 111 999, which is a 24-hour emergency line. To report a power cut, call 105.
More about EDF
As we mentioned at the beginning of our article, EDF Energy is a French-owned company. Its name stands for Electricité de France, and it was founded 74 years ago as the country's national provider. It now operates across the globe and was the world's largest producer of electricity in 2009.
Nuclear energy is particularly common in France, with around three-quarters of its electricity sourced from nuclear power, which explains EDF's high dependence on nuclear energy when compared with the UK average.
EDF Energy Jobs
Looking for a career with EDF? You can find EDF Energy jobs by heading to the Careers section of its website - just scroll to the bottom of its homepage and click the link that says "Work for us".
EDF Energy jobs are split between Early Careers Opportunities and Career Opportunities on the page, so you can choose the option that best reflects your career stage to find the most relevant opportunities to you. The page also offers an insight into engineering careers with EDF, a page on Hinkley Point C, and a section on life at the company.
By clicking through to the Life at EDF section, you will also find a Job Search function which you can use to look for opportunities, filtering by keyword or by location. You can then apply directly from this part of the site by uploading your CV and other documents.