Scottish Hydro (part of SSE): Login & contact help

Even if you've made it to this page, you may not be entirely clear on what Scottish Hydro is, as it has undergone several changes over the years. We hope to clear things up for you, so keep reading to find out about the company's services and learn about its rebranding.
---
What is Scottish Hydro?
Scottish Hydro Electric Transmission plc is now the name of a transmission owner licensed to maintain and invest in the electricity transmission network in the north of Scotland. It is a part of Scottish and Southern Electricity Networks (SSEN), which is itself a subsidiary of SSE.
Scottish Hydro Electric Transmission owns and maintains the 132kV, 275kV and 400kV electricity transmission network in its license area. The network is comprised of:
Underground cables
Overhead wooden poles
Electricity substations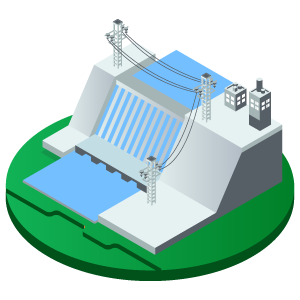 This network is spread over more than a quarter of the UK's landmass and much of it over challenging terrain - it is Scottish Hydro's remit to make sure that electricity generated from wind farms, hydroelectric power stations and other power sources make it to homes and businesses in Scottish towns and cities both safely and reliably.
Scottish Hydro works closely with the National Grid to connect electricity generators to the transmission system so that they can reach where there is demand for electricity. It refers to itself as a "natural monopoly" and is regulated by Ofgem, which sets a cap for the amount of revenue it is allowed to earn for building, maintaining and renovating the network.
Are Scottish Hydro and SSE the same company?
Yes, Scottish Hydro is now a part of SSE. To be more precise, Scottish Hydro Electric Transmission plc is a part of Scottish and Southern Electricity Networks (SSEN), the distribution arm of SSE Group. It is responsible for maintaining and investing in the company's electricity transmission network in the north of Scotland.
Scottish Hydro Rebranding
You may have made it onto this page under the assumption that Scottish Hydro is an active electricity supplier. It was, once upon a time, a UK electricity and gas provider, but we're sorry to say that this hasn't been the case since 1998 when the provider merged with Southern Electric to form SSE.
SSE did continue to use the Scottish Hydro brand name for its operations in Scotland for a time after this merger, leading to the existing confusion around its continued existence. This has not been the case for a while, however, and former Scottish Hydro customers left in doubt over their own energy supply should know that their supply is now handled by SSE under that name..
Scottish Hydro Login
If you're looking for a Scottish Hydro login page and are struggling to find the right one, you've come to the right place. There are two reasons you might be looking for a Scottish Hydro login page, here they are and further down you'll find what you need to know in each case:
You're trying to access your Scottish Hydro login in order to manage a new gas or electricity connection.
Scottish Hydro was your energy supplier (the company you pay your bill to).
1. New gas or electricity connections
If you're trying to manage a new connection through Scottish Hydro, be aware that this is handled through its parent company, Scottish and Southern Electricity Networks (SSEN), and you should be able to access or recover your account to manage your application via its website.
2. Scottish Hydro is your provider
In the case that you're under the impression that Scottish Hydro supplies your home with electricity and/or gas, we're here to tell you that in fact your supply is managed by SSE, and it is to their website you should head over to in order to manage your account. Follow the steps below to recover your account:
Go to the SSE homepage and click the My Account button in the top right-hand corner.
Enter the email address linked to your account and the password if you can remember it. If you can't remember your password, click the Forgotten your password? button. You'll be sent an email with a link to reset your password within a few seconds.
Assuming all's gone well, click the blue Log in button. If not, try contacting SSE via one of the methods below to see if they can help you.
Contact Scottish Hydro
If you haven't quite gotten the answers to all of your questions on this page, you might want to try to contact one of the new entities that have replaced Scottish Hydro. In this first table, you'll find all the details you'll need for contacting SSEN, which will be able to answer all queries relating to transmission and new connections:
| SSEN department | Contact number |
| --- | --- |
| General inquiries | 0800 048 3516 |
| Generation connections | 0800 048 3515 |
| Emergencies | 0800 300 999 |
If, however, the issue is your home energy supply and you want to get in touch with SSE as a former Scottish Hydro customer, here are the numbers you'll need:
| SSE department | Contact number |
| --- | --- |
| General inquiries | 0345 070 7373 |
| Sales inquiries | 0345 026 7058 |
| Pay As You Go meter inquiries | 0345 070 7372 |
You can also contact SSE via their website, where you're able to drop them a message (they usually respond within five days) or chat with an agent directly via their webchat. You can also find more contact numbers for more specific inquiries, such as smart meters and moving home, in the Help section of the SSE website.
Looking for numbers to call in case of emergency?If you suspect a gas leak or are experiencing a loss of supply, you should call the National Gas Helpline on 0800 111 999. The number for electrical power cuts is 105. Both numbers are free and available 24/7.