Electric car charging stations to triple with Ofgem investment

Ofgem this week announced just over £300 million of investment into low carbon energy infrastructure, including plans for around 1,800 electric car charging stations across the UK. The plans are part of a wider £40 billion investment programme for safe, secure and clean energy which will help the country hit 'Net Zero' carbon emissions by 2050.
---
Who pays for electric car charging stations?
Who pays for electric car charging stations depends on the electric car and on the station - Tesla models, for example, can be charged at Tesla 'Supercharger' stations. There are more than 25,000 of these globally, making it the largest network of electric car charging stations in the world.
With an adaptor, other models of electric cars are able to use Supercharger stations, but the network of standard electric car charging stations, which are funded with public money, has up to now been limited. Their construction has for a long time been way down on the list of government priorities.
Why invest in electric car charging stations?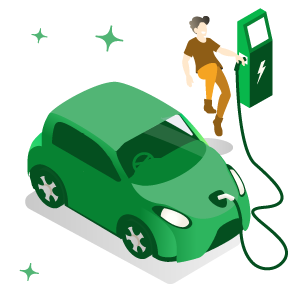 Ofgem's investment, which amounts to £300.5 million for a total of 204 'net zero' projects (not all of which relate to electric vehicles), is intended to create an infrastructure that will support clean transport and heat. It is a part of the UK's wider target of reaching zero emissions by the year 2050.
The hope is that a broader network of electric car charging stations will lead to less wariness on the part of the consumer with regards to purchasing electric vehicles. Currently, according to Ofgem research, 36% of households that don't intend to buy an electric car are deciding not to on the basis of a lack of charging stations near their home.
The regulator says that the plans will address this issue directly, particularly in rural areas where people are more likely to be far from the nearest charging stations. The following towns and cities will receive increased network capacity to support more ultra-rapid charge points:
Glasgow
Kirkwall
Llandudno
Truro
York
Warrington
Investment in areas like these, the regulator says, will pave the way for 1,800 ultra-rapid charge points, which will triple the number of these types of stations, and a further 1,750 charge points are to be supported in various towns and cities across the country.
There will also be other types of investment in rural areas, with charging points installed at train stations in Mid and North Wales, and the Windermere ferry is to be electrified as well.
Ofgem expects 'rapid takeup of electric vehicles'
The head of Ofgem, speaking about the news, said that he expects the investment to vastly increase the number of electric vehicles on UK roads, which currently sits at 500,000:
The payment will support the rapid take up of electric vehicles which will be vital if Britain is to hit its climate change targets. Drivers need to be confident that they can charge their car quickly when they need to.
The worry over an electric car running out of battery and not being near enough to a charging station to charge it is known as 'range anxiety' and has been a genuine concern in the early years of electric vehicles. It seems that Ofgem is determined to put an end to this concern so as to eliminate the 'downside' of buying electric.
Keith Bell of the Climate Change Committee was enthusiastic about the news:
This joint initiative by Ofgem and the electricity distribution network companies is a welcome development, showing flexibility in the regulatory arrangements in the long-term interests of energy users. On the journey to Net Zero, we need to make it as easy as possible for people to manage without their combustion engine cars.
We can only agree, and are glad to see that Ofgem is putting its money where its mouth is with regards to net zero policies and encouraging a greener future for Britain's energy and transport industry. See the Ofgem website for more details about the investment.