Sustainable Palm Oil: uses, alternatives, environmental impact

Palm oil is a key ingredient in many things we take for granted day-to-day. Yet it is regularly vilified by well-meaning but misinformed advocates seeking to raise awareness on wider environmental and sustainability issues. Let's examine how we use and produce palm oil as well as its environmental impact.
---
What is palm oil used for?
Palm oil is a very common ingredient in prepared foods that are considered to be staples in grocery stores in the UK and overseas. Whether you watch your diet with margarine or you enjoy two scoops of ice cream with your chocolate cake, palm oil is in your life.
It may seem hard to believe, but palm oil is a key element of many products including biofuels, soaps and makeup. That's because palm oil has several unique attributes that make it so ubiquitous. Let's see what they are:
Acts as a preservative independently of other additives, which lengthens the time food stays edible.
Enhances the texture of small baked products without impacting the scent of food.
Maintains a stable cooking profile while resisting high temperatures.
Bounteous production yields that outstrip other vegetable oil producing crops.
---
What is the environmental impact of palm oil?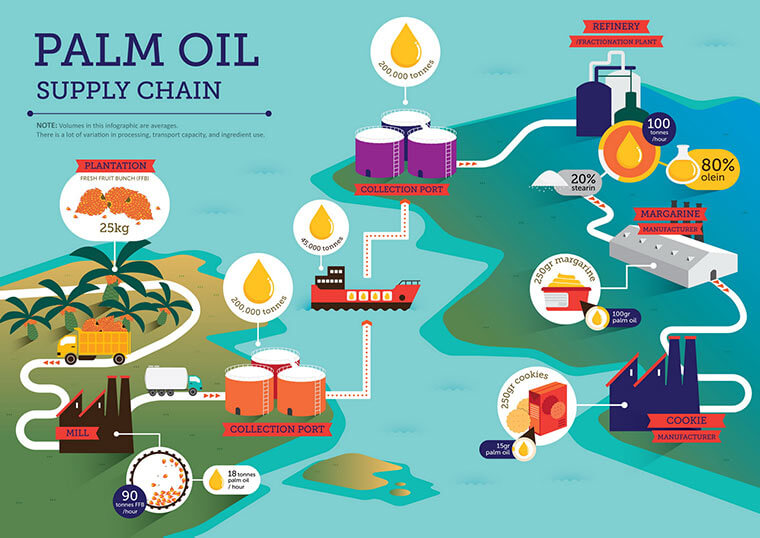 Palm oil only needs half the arable footprint of other vegetable oil crops, which makes it significantly cheaper than the competition. This makes it a victim of its own success with palm oil being cited as a leading cause of deforestation in many regions across the globe.
Palm oil plantations that are set up without the consent of local communities can often lead to a whole host of environmental and societal concerns:
Destruction of natural habitats for protected or endangered species and biodiversity.
Forcible removal and displacement of communities from their homes.
Poor and unsafe working conditions on many palm oil plantations.
In spite of widespread malpractice and irresponsible farming practices, a gradually increasing number of palm oil producers have adopted sustainable production practices and policies. This means that now this staple in many industries worldwide can be sourced in a more responsible and sustainable manner than ever before.
---
Alternatives to palm oil
It may be tempting to call it quits and ask for palm oil to be substituted with some other vegetable oil. While such a rash move may seem like a practical way out of the unpalatable situation, the truth is that any simplistic swap is an abdication of responsibility to meet some situational environmental ideal that ignores the realities on the ground.
First of all, the production of other vegetable oils leads to similar and in some cases more serious environmental and human concerns. Let's examine the common misconceptions surrounding calls for companies to stop using palm oil:
Palm trees yield anywhere between 5 and 10 times more oil than sunflowers, soybeans and canola.
The above alternatives would require remarkably larger amounts of fertile land, which would dramatically multiply the negative environmental impact.
Palm oil has unique properties which cannot be replicated with other cooking oils.
Palm oil production is an industry that provides jobs and livelihoods for millions of families. In Indonesia and Malaysia alone, there are over four million people involved in the sector. Suddenly ceasing the manufacture of palm oil would result in serious economic consequences and a rapid increase in poverty for numerous countries.
Palm oil around the worldChina, Indonesia and India are amongst the top territories when it comes to palm oil use. Meanwhile, the average French person has a yearly palm oil intake of roughly 2kg which represents 6% of their fat consumption - a remarkable statistic for a country that has been long regarded as a culinary cornerstone.
---
What makes certified sustainable palm oil different?

Secure food supply

Keeps food affordable

Economic growth

Reduces land use
Ten years ago, RSPO (Roundtable for Sustainable Palm Oil) set out to create an environmental and social framework for companies to adhere to if they wished to receive a CSPO or Certified Sustainable Palm Oil endorsement. The goal of this framework is to manage the potential environmental impact of palm oil holdings worldwide.
One of the keystones of the framework is the stipulation that no primary forests, biodiverse habitats, vital ecosystems or culturally significant areas may be used for palm oil production.
The RSPO criteria also encourage better management of pesticides, better work conditions that at least meet local legal requirements, and the consultation of local government and communities in order to foster sustainable development for new palm oil plantations.
RSPO gives palm oil producers an edge over competitors, giving them access to work with more responsible brands willing to pay a premium for sustainable palm oil products.