Electric Ferry Ellen Goes into Operation in Denmark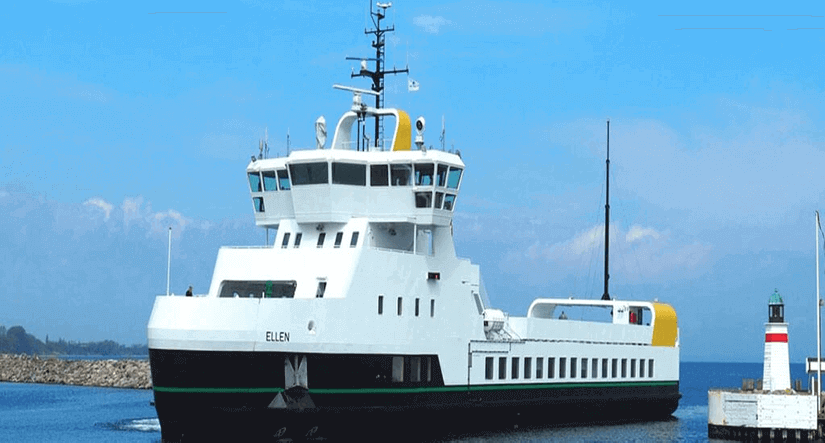 The future is electric! Electric vehicles such as cars are becoming a common sight on the streets, electric scooters and even skateboards are zooming around our cities. Electric vehicles help reduce greenhouse gas emissions when combined with a switch to renewable energy sources.
---
---
Now Denmark is operating the world's largest all-electric ferry which it hopes will save 2,000 tonnes of CO2 a year.
The E-ferry Ellen, as she has been christened, also boasts the largest battery ever installed on a sea-going electric vehicle.
It is now making the 22km journey from Søby, on the Danish island of Ærø, to Fynshav, on the island of Als, four times a day. The plan is to increase this to between five and seven times a day.
---
What are Ellen's vital statistics?
Ellen is the result of the EU-supported E-ferry project to design, build and operate a 100% electrical-powered car and passenger ferry.

She can carry around 30 vehicles and 198 passengers in summer, or 147 during the winter, across distances of up to 22 nautical miles (nearly 38 km) on a single charge. This is seven times the distance even the best electric ferries could manage up to now.
The ship is just under 60 meters in length and 13 meters in width and can travel at up to 15.5 knots, which is equivalent to about 17.8 mph or 29 kmh.
Ole Wej Petersen, Mayor of Ærø, said the initiative would help to "show the way to climate change mitigation within the field of ferry services".
"Ellen demonstrates that even longer regional routes can be covered by purely electric means," he said.
Passengers will also benefit directly from this environmentally-friendly ferry. According to Keld M. Møller, Director of Traffic for Ærø Ellen offers an "extraordinarily pleasant journey, free from noise, vibrations and diesel fumes".
---
How does it work?
The technology behind the project is a combination of electrical systems created by Danish manufacturer Danfoss, which is also headquartered in the island of Als, and an innovative battery system built by Swiss company Leclanché.
The Danfoss system includes two 750 kW electric motors and two 250 kW thrusters for manoeuvring. Danfoss also designed and built the charging infrastructure needed to power-up the vessel in port.
Danfoss head Kim Fausing said electrification was the "key" for the company's future success.
"We will electrify complex machinery, achieving not only reductions in CO2 and other emissions but also improving the productivity and efficiency of such machines," he said.
"Ellen is an excellent example of the future for electric transport: cleaner, greener and more efficient. It is a great project which demonstrates the potential for electric ferries to end-users and the industry itself."
Mr Fausing added that the EU-backed project would be "an exemplar" for future electric transport projects.
Leclanché's innovative battery design has an enormous capacity of 4.3MWh and is the largest battery installed on a ship anywhere in the world.

The battery uses high-energy G-NMC (nickel-manganese cobalt lithium oxide) lithium-ion cells with advanced safety technology, including fire prevention and extinguishing abilities.
The designers are so confident in their product that Ellen is the first e-ship launched without a back-up emergency diesel generator on board.
Anil Srivastava, head of Leclanché called it "a new milestone in commercial marine propulsion".
"Over one year, it will prevent the release of 2,000 tonnes of CO2, 42 tonnes of NOX (Nitrogen dioxide), 2.5 tonnes of particulates and 1.4 tonnes of Sulfur dioxide into the atmosphere," he said.
"This project demonstrates that today we can replace fossil fuel thermal drives with clean energy, and thus contribute to the fight against global warming and pollution for the well-being of our communities."
---
How is Denmark tackling the climate emergency?
The UK recently legislated to become a net-zero producer of carbon emissions by 2050. Denmark also has set its sights on becoming carbon neutral by that year.
Ellen is part of Denmark's Natura scheme to provide environmentally-friendly transport to communities across the country. The government is also planning a ban on petrol and diesel cars from 2030, tough carbon targets for public transport and subsidies for electric vehicles.
Denmark has made great strides in developing its infrastructure to reduce fossil fuel consumption and mitigate climate change.
Since the oil crisis of the 1970s, many Danish governments have prioritised making their nation's energy use more efficient and encouraging the use of renewable energy sources including wind, wave and solar power.
By 2020, Denmark's total greenhouse gas emissions are predicted to drop 38-39% below emissions levels recorded in 1990. The Scandinavian country is on track to get 43.6% of its energy needs from renewable sources in 2021, more than exceeding an EU target of 30% by 2020.
While this is good news, the Danish Energy Agency is worried emissions will increase after 2021 mainly due to increased energy use by data centres, which will make up 16.7% of total electricity consumption within the next decade. This means that, without new policies, Denmark will not meet its goal of having at least 50% of its electricity come from renewables by the end of the 2020s.
However, a new coalition government formed in June is taking climate change very seriously indeed and plans to introduce mandatory decarbonisation targets and beef up its promise to reduce emissions to 70% below the 1990 level by 2030.
by Damien Crossan